Smoke Alarms!
Every kid needs to know what a smoke alarm is! Smoke alarms "smell" smoke and make a loud noise to let everyone in your house know that there is a FIRE!
Every home should have a smoke alarm in or near every room and on each level of your house to let you know if there is a fire.
Do you have smoke alarms in your home?
Ask Mom and Dad where they are at!!! If you don't have them ask your parents to buy them to stay safe!
Do you know what your smoke alarm sounds like?
Ask your parents to push the button so that you can hear the sound it makes!
If you are asleep and ever hear that sound you will know that it is time to GET OUT AND STAY OUT of your home so that you can stay safe!
Be a hero! 
Remind your parents to check the smoke alarm batteries!
IF THERE IS EVER A FIRE IN YOUR HOME where will you go?
Making a plan with your family is the best way to make sure your family knows how to escape if your house is on fire.
Everyone that lives in your home should help make the plan so that EVERYONE knows how to GET OUT and where to meet outside of your house.
Download and use the Bouse Fire District Escape Plan !!!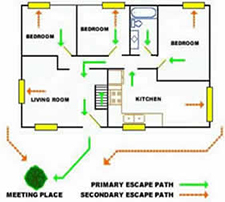 Fire Education Programs for Kid
Visit the FireSafety.gov for Kids' site for more fire safety tips and many fun activities to keep you busy and safe!
Visit the Sparky the Fire Dog's site for games, activities, and other fun stuff to do! Learn about Sparky's history and how he came to be the great fire dog he has become!
Visit the Sesame Street Fire Safety Program for preschool children on the U.S. Fire Administration website for easy-to-use lessons, games and activities to help reinforce important fire safety messages and more.