According to the United States Fire Administration, older adults run a risk that is 2.7 times higher of dying in a fire than people in younger age groups. They also suffer a higher number of fire related injuries.
Most of the elderly people who lost their lives or were injured by fires were in their bedroom sleeping when the fire broke out.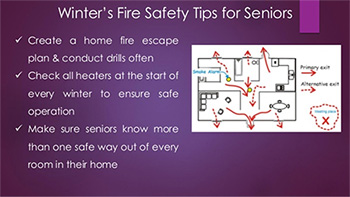 Fire Risk Factors of the Elderly
ElderlyFallingNaturally every elderly person has different physical and mental abilities. There are elders that run marathons, seniors that swim laps and people in their 80s and 90s with minds as sharp as they were in their earlier years. However, this is not the norm. Most people suffer from physical and/or mental decline as they age. The elderly often are afflicted with illnesses or disabilities that limit their mobility to varying degrees, making escape from a fire more difficult.
The following are additional risk factors that increase the possibility of fire related injuries or fatalities to the elderly.
Diminished mental facilities due to depression, forms of dementia or Alzheimer's disease
Slower reaction times and a greater potential for accidental falls.
A reduction in the abilities of the five senses:

Vision
Hearing
Smell
Touch
Taste

Medications may have an affect on a senior citizens quick decision making ability
Economic situations may cause some elderly people to use dangerous space heaters, candles or cooking methods. They may be unable to pay for necessary home repairs involving electrical problems.
Many elderly people live alone.
Fire Hazards and the Elderly
The following are several of the most common causes of fires that affect older people.
Kitchen fires caused by cooking accidents, such as unattended or forgotten pots of food being cooked, or fires caused by grease flare-ups
Using alternative heating methods such as kerosene or electric space heaters, wood stoves or fireplaces.
Smoking
Electrical problems including overheating outlets, old and worn appliances and faulty or old wiring.
Fire Education for Seniors
It is important to educate the elderly, their families and caretakers of the increased risks of fire to this age group. Many fire departments in the United States offer fire safety education for children through programs at schools or visits to the firehouse, However, more light needs to be shed on the dangers of fire that older adults face each day.
In addition to obvious fire hazards, the elderly and their families need to know about other possible fire dangers such as:
Using oxygen tanks and oxygen compressors
The fire hazards associated with hand sanitizes and other chemicals
The dangers of keeping clothes under a gas dryer
Protect Your Seniors
Follow these elderly fire safety tips to ensure their homes are safe.
Never leave stoves unattended – Usually many elderly get distracted and they forget that they have left a pan or pot on the stove.
Be very careful using alternative heat sources – If you are using space heaters, make sure it is approved by Underwriter's Laboratory. You can figure this out with UL mark or tag on the heater.
Be careful smoking – Seniors are more likely to fall asleep without putting out their cigarette. It is important to ensure that the ashtray is emptied out into a metal container so even if a cigarette is still lit, it will not cause a fire.
Check smoke detectors – To be sure, change smoke detector batteries each year. A good idea is to change them in the fall when the clocks are turned back for Daylight Savings Time.
Oxygen tanks and compressors – Make sure you have signs in place to inform people that there are oxygen tanks and compressors. This is valuable information for fire departments as they can be dangerous in a fire.
Hand sanitizers – Hand sanitizers are sometimes flammable and can be a fire hazard it stored near heat.
Dryers – Ensure your aging parents are properly emptying the dryer lint trap as this can be a fire hazard.
Develop a fire emergency plan – This can literally save your parents life. Ensure they know what to do in an emergency and can get out in time. If they have difficulty walking, ensure they have an escape route that does not involve stairs or walking very far. Review with your parents regularly.
Fire extinguishers – Have fire extinguishers in places where there is a hazard, such as the kitchen.
Smoke detectors – If your seniors have hearing issues, make sure the smoke detectors is loud enough or replace with one that also flashes a light.
Elderly medical alert – Consider an Elderly Medical Alert that they wear 24/7 and can push if help is needed. For seniors, it could be the difference between being safe and being injured.
Electric cords – Make sure they are in good repair and used properly. They should not be under carpets or overloaded.
Clutter-free – Ensure your seniors home is clutter free so that they can quickly and easily get out in case of emergency. This is also a good idea in general as clutter is a serious falls risk.
Appliances – Ensure appliances are in good repair and properly maintained.
Furnace – Ensure the furnace is in good repair and maintained properly.
Flammable liquids – Ensure proper storage and removal of flammable products.
See also
Visit the Fire-Safe Seniors program on the U.S. Fire Administration website for help with planning and implementing fire safety interventions for the high-risk group of older adults.